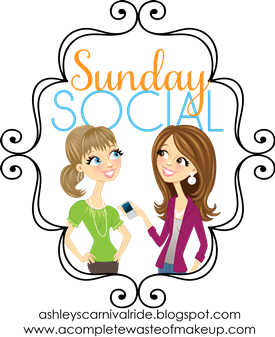 Thank you Ashley and Neely for Week 9 of the Sunday Social. That is commitment, I tell you. I have to say, I'm so ready for fall. I'm ready for cooler weather. I'm ready for nature walks. I ready to pumpkin candles. I can't wait.
So...here we go...
1. What is your favorite Fall activity?
Shopping. Ok, who am I kidding. That is one of my favorite activities in any season. For me fall begins creativity. I start choir rehearsals and Christmas practices. I love Christmas and holiday concerts and programs. I also love that I get to spend way more time with my family. I miss them so much.
2. Do you follow a football team? if so which one and why?
I'm not like a huge sports fan, but if I were choosing a team I'd have to go with Oklahoma University. My cousin is attending there in the fall and I'm for Oklahoma. Can you be for anyone else?
3. What is something fun about Fall in your area?
The Tulsa State Fair happens every fall. And that's fun.
4. Fav Fall outfit staples?
I am desperate for cooler
temperatures
. The past two summers have been blistering in Oklahoma. I'm really hoping that this fall brings the cold and the rain.
6. Favorite Fall holiday? Traditions?
I love Thanksgiving so much. I may even love it more than Christmas. It's so very relaxing to spend time with my family. I can't wait.