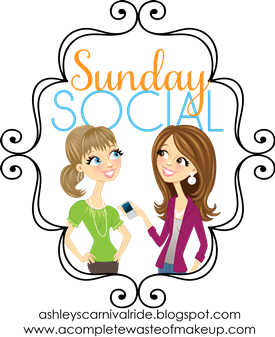 Hello all,
I hope this Sunday is finding you well. Today I have already been to church, experienced the presence of God, and ate lunch while watching some Netflix. Sundays typically are not restful for me, but I'm fine with that. In an couple of hours I'm going to be working with eight teenagers who love God and want to serve Him. Helping train and direct the youth praise and worship team is so fun. I love those kids so much. They are so passionate and most of them a dedicated. Plus, I get the opportunity to pour into their life and build them up.
Thank you to Ashley and Neely for hosting this link up. It's a lot of work for them, but a lot of fun for us. It's so interesting to read everyone's responses.
Thanks for stopping by and here's my answers.
1. Best trip you've ever been on?
This was a toss up for me between a couple of trips. In High School my parents made some serious sacrifices to take my family of so BIG vacations and I'm so happy they did. Those vacations were very fun and relaxing, but they were also a growing time for our family. I loved them.
Last summer, though, I went on a working trip with the before mentioned students to Phoenix. Yes, it was a work trip, but seriously, it felt like a vacation. The sponsors were wonderful. The kids were wonderful. The places we went were wonderful. Because we drove, we took some extra travel days to make the journey more bearable. As we traveled historic Route 66 we grew together. Here's a few pictures from that trip.
2. Best idea for a girls weekend trip?
I'm going to have to go with...Dallas!
Being from the south there are a few things that us ladies know how to do: big hair and shop. I don't know a better place on earth to perfect those two things than Dallas. I mean, can you think of one?
3. Best idea for a couple's trip?
I'm not a couple (obviously) but I think that San Antonio would be the perfect place to go for a couple's trip. It's like this perfect balance of fun and romance.
4. Best vacation of the cheap?
Ok, I know that this is kinda laughable, and you're going to have to go to a time share meeting but Branson is your best bet.
Sign up for those $99 vacation package and you get up to a five night stay at a nice time share with pools and all kinds of amenities. Sometimes they even give you credits for shows and dinner.
Sure it's Branson, but it's Branson. And the Landing is so nice. You'd like it.
5. Place you'd most want to visit?
I would LOVE to go to Rome. I've always wanted to. I love history and what better place to go than the birth place of modern civilization?
6. Travel necessities?
This next picture are my travel necessities. Enjoy exploring.
Have a wonderfully, blessed day!